For years, the Architecture & Building Expo has stood as a gleaming beacon of innovation, forward-thinking designs, and the hottest products in the construction industry. Taking place on the 11th and 12th of October 2023 at the RDS Dublin, this year promises to be bigger than ever. Amidst this grand showcase, Partel is all set to exhibit its cutting-edge products, positioning itself as a visionary in sustainable construction solutions.
Architecture & Building Expo: Why It's the Place to Be
Staged alongside the Royal Institute of the Architects of Ireland (RIAI) conference, the expo isn't just about showcasing products. It's a convergence of ideas, trends, and technological advancements.
Here are the key reasons why it's unmissable:
Premier Showcase: It stands as the zenith of architectural and construction innovation in Ireland.
Unique Marketing Opportunity: Thanks to its tie-up with the Royal Institute of the Architects of Ireland Annual Conference
Industry Leaders: Each year, the expo attracts the crème de la crème of construction products.
Recognition: The Architects Choice Awards offers a chance for products to shine under the scrutiny of esteemed architects.
Networking Goldmine: Face-to-face interactions with top architects and technologists make it a pivotal event.
Register for Architecture & Building Expo 2023: Registration | Architecture Expo (archiexpo.ie)
Partel's Game-Changing Products
We're thrilled to announce the launch of our innovative paper-based membranes at this year's Architecture & Building Expo. Alongside these exciting new additions, we're also proud to promote ALMA VERT, one of our most esteemed products that has garnered acclaim in the industry, and Lunos Heat Recovery Ventilation Systems.
1. IZOPERM PLUS ECO: Ecological Paper-Based Vapour Control Layer
A testament to sustainable construction, the IZOPERM PLUS ECO is an ecological paper-based vapour control layer. But its eco-responsibility doesn't compromise its strength. With up to 60% renewable FSC paper, it also boasts a robust 3-layer fabric mesh. Designed for optimal moisture management, it ensures buildings remain healthy and adhere to the stringent energy efficiency benchmarks of GEV construction. Its compatibility with conventional building systems makes it versatile, but it's the impressive SD value of 20m that stands out, ensuring optimal thermal insulation.

Click here to learn more about IZOPERM PLUS ECO.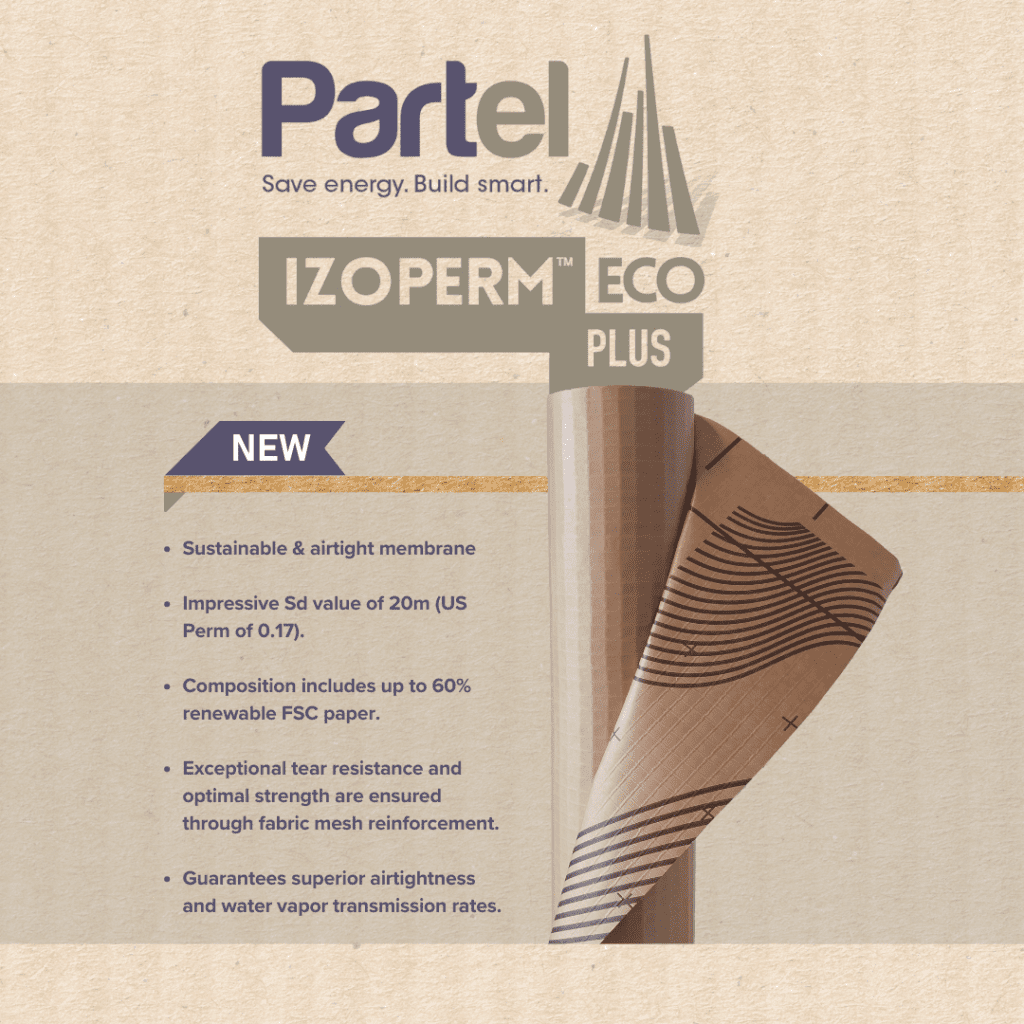 2. VARA PLUS ECO: Smart Ecological Vapour Control Layer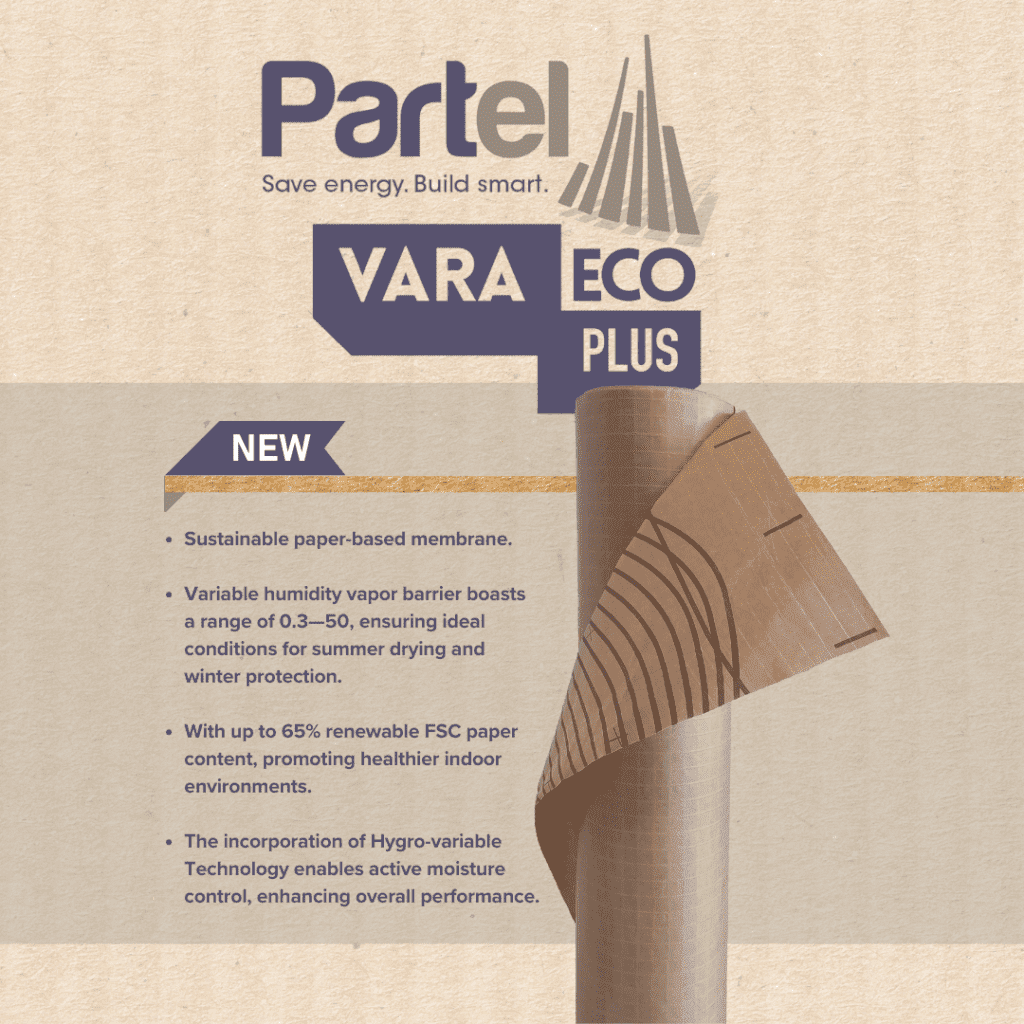 Another feather in Partel's cap, the VARA PLUS ECO, is a smart ecological vapour control layer. With up to 62% renewable FSC paper, it's built for the future. Its standout feature is its hygro-variable technology which ensures active moisture control. Suitable for both internal airtight membranes and vapour control layers for external use, its compatibility is unparalleled. Its Sd Value of 0.4 – 35 and Water Resistance Class W1 speak of its capability to protect structures against moisture across varying conditions.
Click here to learn more about VARA PLUS ECO.
3. ALMA VERT: The Iconic Thermal Break Material
ALMA VERT is a solution for reducing thermal bridges; it is the epitome of design flexibility. Made of 100% PET recycled material, each raw board produced signifies 25 x 1.5 L pet bottles recycled. Its merits don't just lie in its eco-friendliness, but also in its mechanical strength, efficient thermal break capabilities, and optimal insulation properties. A product that encapsulates breathability, has low water absorption, and is 100% recyclable.
Click here to learn more about our thermal bridging solutions.
4. Lunos Heat Recovery Ventilation Systems: Breathing Freshness Into Every Space
For decades, LUNOS has been synonymous with impeccable quality, stellar functionality, and unmatched comfort. As a provider of these exceptional systems, Partel brings to the table decentralized ventilation solutions that stand out in their commitment to ensuring clean, hygienic air in every corner of the living space. But it doesn't stop at just ventilation. The energy-efficient Heat Recovery systems offered by LUNOS are engineered to enhance indoor air quality while effectively combating moisture accumulation and the consequent mould growth.
The benefits of integrating these systems into your living or working space are manifold. Not only do they ensure a healthier environment by curbing indoor air pollution, but they also translate to tangible savings in heating costs. These advantages come bundled with the promise of low acquisition and operational costs and, of course, the mark of quality that has become synonymous with the LUNOS name. In the era of new builds and energy retrofits, the emphasis on ventilation systems has never been more pronounced. It's not just about regulating indoor temperatures but about investing in a system that guarantees fresh, clean air with every breath you take.
Click here to learn more about Lunos Heat Recovery Ventilation Systems.