Project Overview
Tucked away in the scenic village of Challock, situated between Ashford and Canterbury, The Old Orchards stands as an embodiment of tradition meeting modern innovation. Developed by Roma Homes Ltd, this exclusive ensemble features 17 contemporary family homes that echo the village's rich history. Among these, 10 are high-specification timber frame residences, manufactured by Harmony Timber, and seamlessly integrating the high-performing breather membrane ECHOFOIL EXO from Partel. Once a segment of Clock House Farm, an estate with centuries of history, The Old Orchards was envisioned to mirror the essence of a traditional Hamlet settlement that seems to have matured naturally over time.
Collaboration and Teamwork
When it comes to crafting individually designed new homes that prioritize quality, style and comfort, Roma Homes Ltd sets a high bar. Similarly, Harmony Timber has etched its reputation as a reliable and innovative supplier of timber frame, roof trusses, and open metal web joists.
The partnership between the two was, therefore, a natural fit, built on mutual respect for quality and sustainability.

Harmony Timber prides itself on its flexibility, a trait that was of paramount importance to Roma Homes as they ventured into timber frame construction for the first time. Harmony's willingness to adapt to different needs, tight deadlines, and legislative shifts made them an ideal partner for this project. They were not just a supplier but an active part of the entire project, collaborating closely with Roma Homes' design team to offer solutions and actively mitigate challenges.
Harmony Timbers' timber frame and roof truss designers were the first in Ireland to fully transition to EC 5 certification. Their commitment to sustainability also resonated with Roma Homes, as Harmony only uses certified timber from sustainable forests. This aligned well with Roma Homes' own ethos of building attractive residences that not only complement their surroundings but also respect environmental considerations.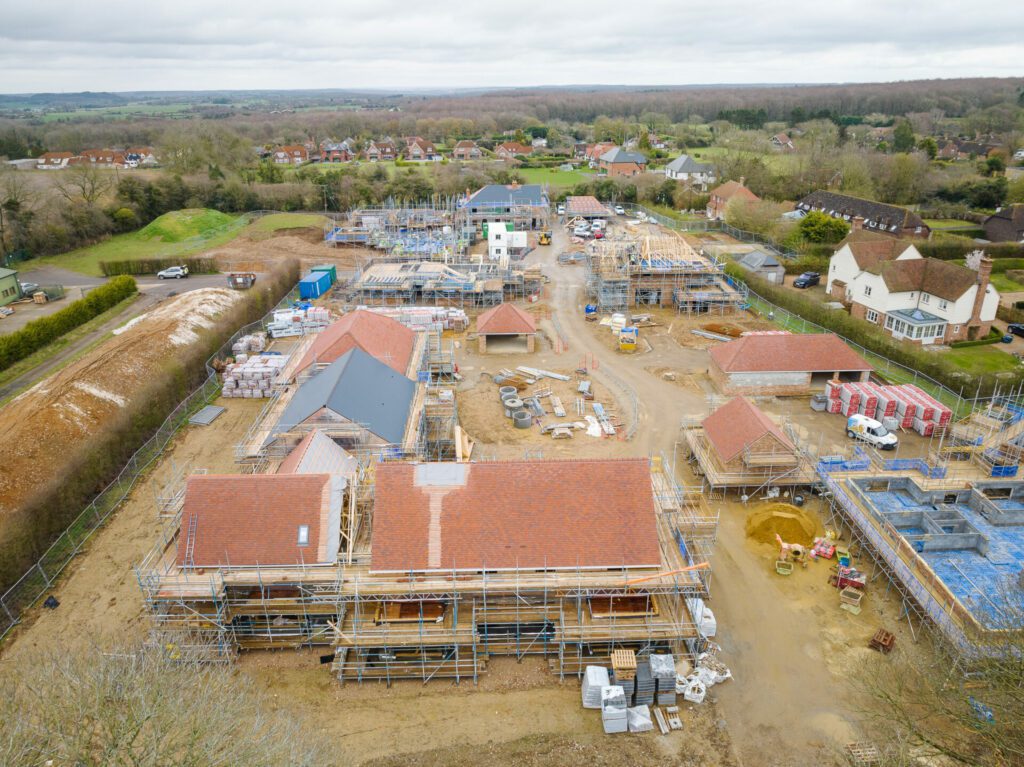 The Challenge
The journey to creating The Old Orchards was paved with challenges. One of them was the incorporation of projecting bay windows and minimising the structural steelwork sizes to ensure minimal intrusion into the glazing zone while adeptly managing and reducing thermal breaks at these critical junctions.

Venturing into the realm of timber frame construction for the first time, Roma Homes was on the lookout for a solution that would meet stringent thermal requirements without compromising on speed, quality, or versatility.
The Solution
One of the pivotal elements that played into the success of The Old Orchards was the utilization of timber frame construction in 10 houses through Harmony Timber. The timber frame units were built over a 7-week span. This decision streamlined the building process. All walls were meticulously preformed off-site in Canterbury, Kent in the UK. Such an approach drastically cut down construction timelines.
Benefits of Timber Frame Construction
Timber framing presented a myriad of advantages, perfectly aligning with the project's objectives. It offers energy efficiency, improved site safety, and the flexibility of design, while substantially reducing construction times— by as much as one third. The construction's impact due to inclement weather is minimized, making programming easier to control. Additionally, timber frame homes are sustainable, and they offer excellent thermal and sound insulation properties, contributing to both economic and environmental benefits. As Roma Homes ventured into timber frame construction for the first time, they were thoroughly impressed with its quality, speed, and the ease with which it met their stringent thermal and airtightness requirements, making it an ideal choice for contemporary, sustainable residential developments like The Old Orchards.
Airtight Timber Frame Houses
Harmony Timber is leading the charge in integrating airtightness into their construction methods. In this project their open panel kits were pre-insulated in the factory with VCL installed on site. Compliant with codes and standards aimed at reducing carbon emissions, their timber frame homes offer both health and sustainability benefits.
The key to achieving this is to create an unbroken seal around the interior lining of the building's exterior shell. This eliminates undesirable drafts and results not only in energy savings but also in a significant reduction of carbon emissions over the building's lifespan.
An airtight building such as a timber frame house means enjoying lower heating bills and a more comfortable living environment free of drafts.
Elevating the project with Partel's ECHOFOIL EXO
What elevated the project to new heights was the introduction of Partel's ECHOFOIL EXO, a reflective breathable membrane designed to enhance thermal comfort and airtightness. The primary reasons Harmony Timber chose ECHOFOIL EXO were its consistently exceptional quality, superior thermal performance, and the outstanding five-star service provided by Partel. Partel's technical team have worked with Harmony Timber in providing bespoke u-value calculations for this project.
ECHOFOIL EXO boasts a commendable emissivity value of <0.05, implying its superior reflective attributes. When a material has low emissivity, it indicates its high capability to reflect rather than absorb energy, making it a prime choice for thermal insulation, especially in tandem with an air gap.
Features of Partel ECHOFOIL EXO:
Enhanced Thermal Performance: A low emissivity value of <0.05 coupled with an R-Value of 0.78 m2K/W ensures top-tier insulation.
Breathability: The membrane's low Sd value (0.08 m) makes it highly breathable, ensuring optimal drying capacity.
Protection: It's both windtight and waterproof, guaranteeing robust protection against elemental forces.
UV Stability: Built with optimal UV stability, it promises longevity.
Humidity Control: Its inherent properties control humidity and offer additional insulation.
Cost-Efficient: The integration of ECHOFOIL EXO leads to notable cost savings, given its long-term benefits.
Conclusion
The synergies between Partel, Harmony Timber and the prowess of ECHOFOIL EXO turned The Old Orchards into a marvel of contemporary living in the Kentish countryside. Achieving the set performance target of 0.19W/m²K U-Value and delivering thermal efficiency, The Old Orchards stands as a testament to what's possible when tradition, cutting-edge building techniques, and quality materials converge.
Ryan Gonesh, the Commercial Director of Harmony Timber encapsulated the experience, noting, "I would wholeheartedly recommend Partel due to their unmatched service, unparalleled quality, and their 5-star approach. The Partel brigade felt like an integral extension of our team."
With ECHOFOIL EXO at its core, The Old Orchards is not just a housing development; it's a beacon of sustainable and comfortable living in the heart of the Kent countryside.
Developer: Roma Homes Ltd.
Manufacturer: Harmony Timber
Project type: Timber frame houses
Building: Single family houses
Completion: 2023