Project Description
This residential project in Vermont, US consists of a four-tiered energy-modeling approach using a safe, durable measure for vapor control and airtightness for both internal and external structures.
The Vermont energy code offers five "packages" or combinations of different insulation levels for compliance. Based on each level of efficiency modelled, the energy use of each level of performance was prepared in advance.
For this project, Montpelier Construction was able to provide Option #3 within the family budget, because it seemed the most cost-effective option for their house design.
Moisture Management using a Smart Airtight Membrane
Partel consulted and worked with Indigo Ruth-Davis, a Certified Passive House Consultant at Montpelier Construction in VT. The team chose to install Partel VARA PLUS, our smart vapour control membrane, located in the center of the wall between the interior stud frame and the exterior I-joist build-out for effective and secure moisture management.
VARA PLUS is a durable airtight membrane, reinforced for optimal strength, used to minimize moisture migration through the building envelope thereby reducing the risk of condensation occurring within the structure. CONIZO tape was used to fully seal the membranes, windows, corners and to reduce uncontrolled air leakage through the assembly.
Also, a superinsulated wall system with an exterior insulation curtain composed of 10-inch wood I-joists filled with dense-blown cellulose insulation was built.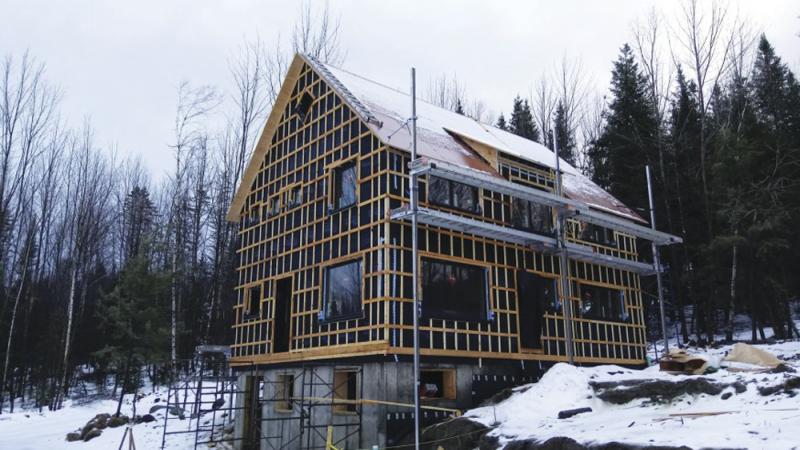 For the external envelope, the homeowner chose a rainscreen siding system requiring a drainage-plane membrane and cross-strapping, which resulted in a significant increase in cost.
The air and wind tightness requirements were delivered by using Partel EXOPERM MONO 150, a highly breathable membrane based on Monolithic Technology that creates a complete wind tight protection. The TPE functional layer located in the middle of the product is vapor open whilst having excellent waterproofing properties. The sealing of EXOPERM MONO 150 membranes was made applying CONEXO MULTISEAL tape, for permanently and safe connections.
Project Completion and Results
The Blower Door test at the end of construction results in 1 ACH50.
Based on the construction cost and estimating energy use, the homeowner will save roughly $1,000/year on heating and live in a more comfortable home with the High-Performing option made all the difference.
Project type: Efficiency Certified High-Performance House
Location: Moretown, Vermont, US
Constructor: Montpelier Construction
Building: Single-Family house
Completion: 2019
If the budget is tight, simple and effective improvements to airtightness and insulation levels can save a surprising amount on heating and pay for themselves quickly, improving the interior comfort and saving energy.
For further information about this energy-efficient project, read the full article, here.