Project Overview
Whitethorn Village is an attractive residential scheme positioned adjacent to the centre of Naas, a bustling town with an abundance of amenities and the whole of Dublin on its doorstep. The contemporary development led by Cairn Homes PLC includes a mix of spacious family homes and two apartment buildings. These comfortable, sustainable residences offer the very best in terms of quality and energy efficiency.

Developer Cairn Homes collaborated with Horizon Offsite to deliver the impressive 5-storey residential blocks in Whitethorn Village, benefiting from off-site fabrication, accuracy, and rapid completion within a tightly controlled cost plan.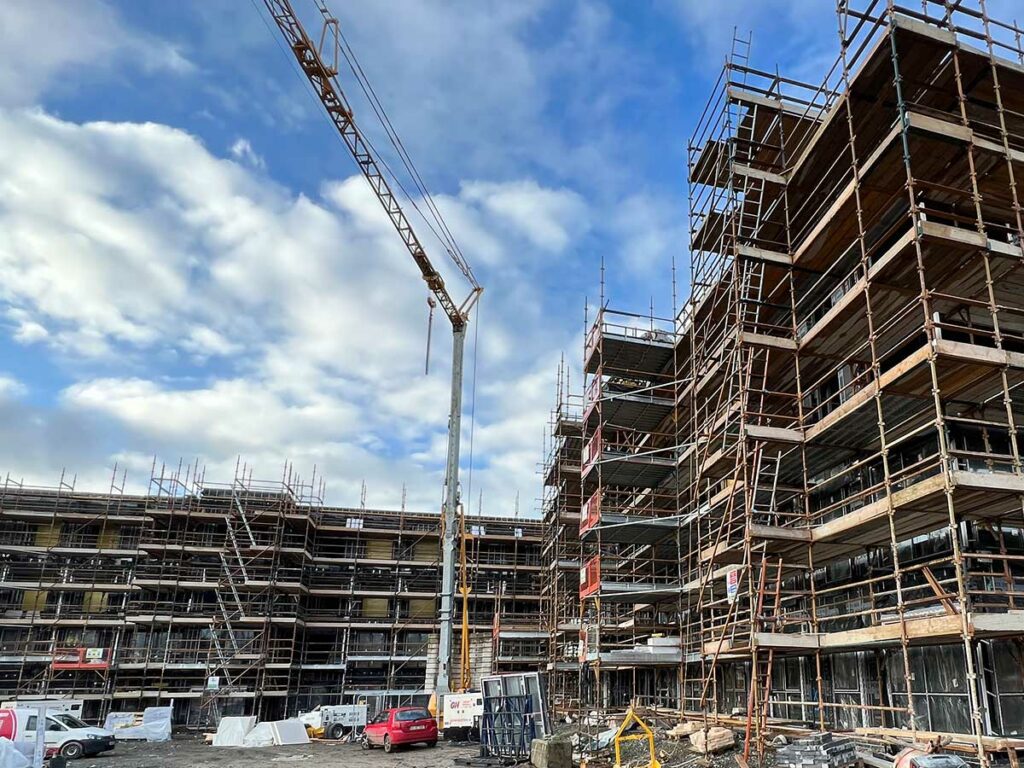 The apartments were constructed using an offsite fabricated light gauge steel (LGS) structural system. The external LGS wall panels and floor decking used in this system incorporated a number of Partel's low carbon building envelope solutions. This included the advanced fire rated components EXOPERM MONO DURO 200 breather membrane and ECHOSEAL ALU FR airtight and windtight tape, the multi-purpose adhesive VERBOND, and also the phA Class Passive House Certified components IZOPERM PLUS vapour control layer and VARA SEAL smart airtight tape.
The Challenge
Horizon Offsite was contracted by Cairn Homes to provide the design, manufacture and installation of the light gauge steel structure for the apartment buildings. The key challenges were to ensure the apartment blocks were structurally designed with fire safety as a priority, manufactured and built to delay the spread of fire, and also airtight and energy-efficient.
The Solution
For this project, the framing system designed and manufactured by Horizon Offsite was formed from light gauge steel shaped sections and composite concrete floor decks. Each apartment building was constructed one storey at a time, once the concrete floor was adequately cured construction of the next level began. The erection of each steel structure took only 12 weeks, representing an average of one floor every 2.5 weeks.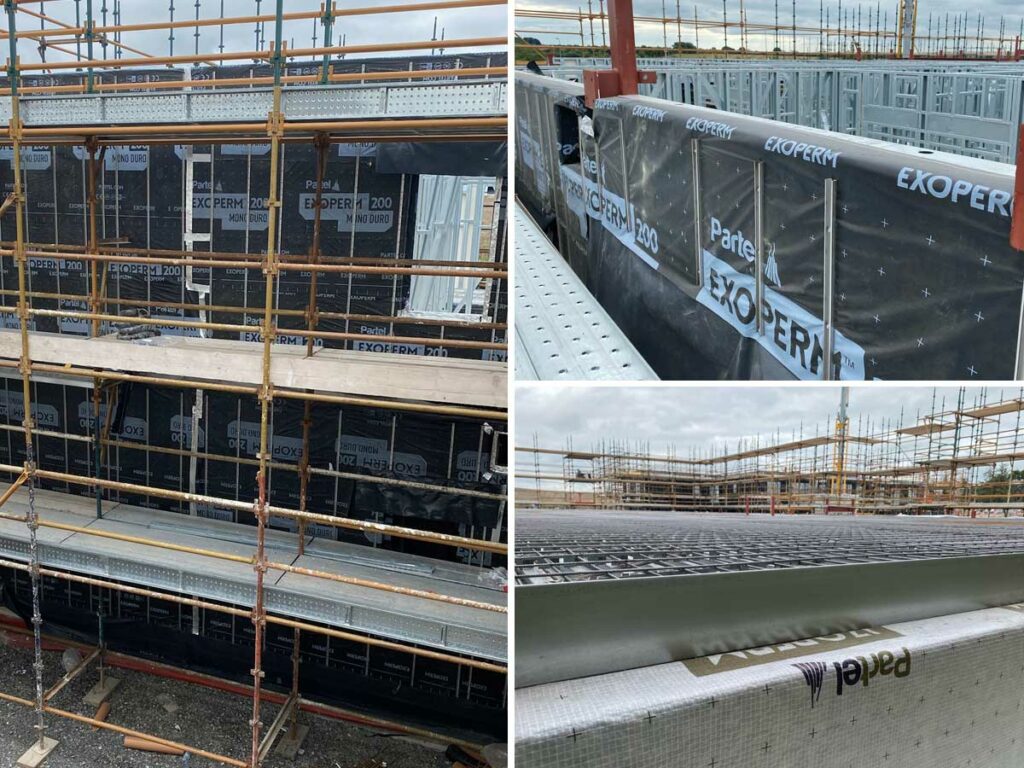 Throughout the structural design of this project, Partel's technical team worked closely with Horizon Offsite and Parkwest Fire Protection to deliver a fire safe product system, as well as providing product specification guidance to meet thermal and airtightness targets, manage condensation risk, and control movement of vapour in the structure.
In this residential project with fire protection a major concern, Partel's EXOPERM MONO DURO 200, which has a reaction to fire classification of B-s1, d0 according to EN13501-1, was chosen as the external weathertight barrier – protecting the building fabric from moisture, driving rain and wind. Factory applied to the external LGS wall panels – on the cold side of the insulation – EXOPERM MONO DURO 200 is incredibly vapour open with an Sd value of 0.13, meaning that crucially it allows moisture vapour to escape the structure easily. This ensures good indoor air quality, reduces the likelihood of interstitial condensation and metal corrosion and therefore protects the essential fabric of buildings for many years to come. Once the external wall panels were installed onsite Partel ECHOSEAL ALU FR was used to permanently seal the external membrane overlaps, securing fire-resistance, airtightness and also wind tightness.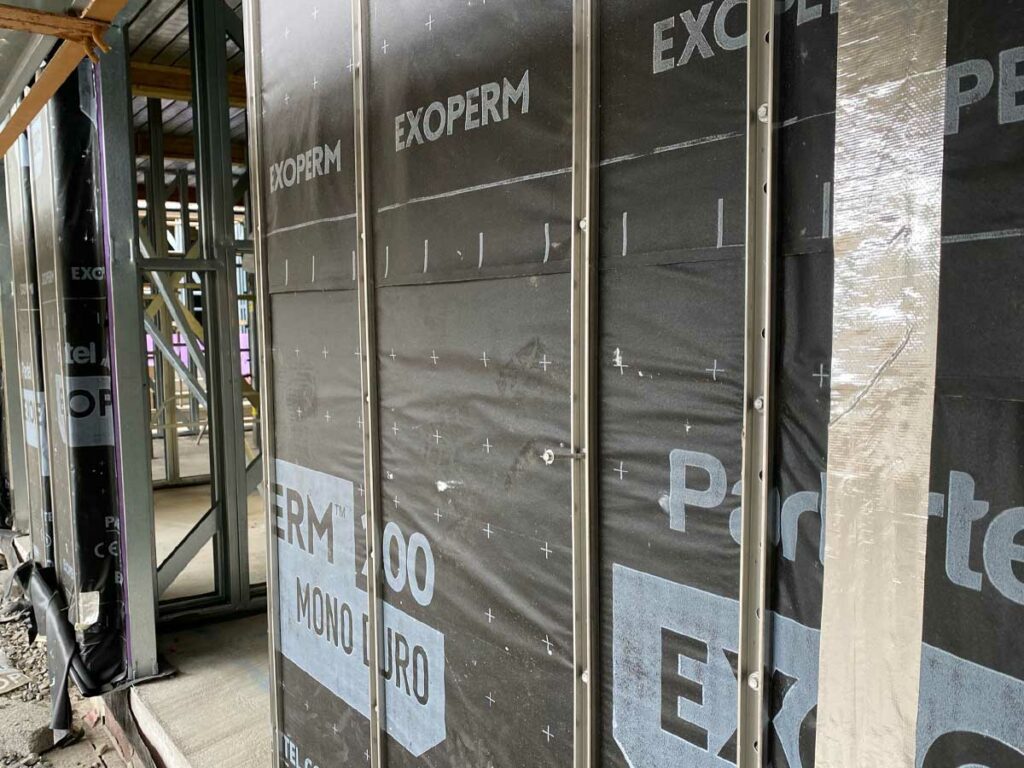 In this tall building, the EXOPERM MONO DURO fire-rated membrane plays a crucial role when incorporated into the wider fire engineering strategy. It protects vital structural components and minimizes the chance of an external fire spreading further, and provides optimum smoke protection for occupants.
To achieve the desired level of airtightness, the airtight barrier was fully planned by Horizon Offsite in consultation with Partel at the design stage – particular attention was paid to floor connection details and window junctions. IZOPERM PLUS, a phA Class Vapour Control layer, was chosen by the team at Horizon Offsite to be factory installed to the LGS wall panels – on the warm side of the insulation – ensuring effective airtightness. This high-performance membrane was also installed around the composite concrete floor decks at junctions with the external wall – this detail was critical in ensuring a continuous internal airtight barrier.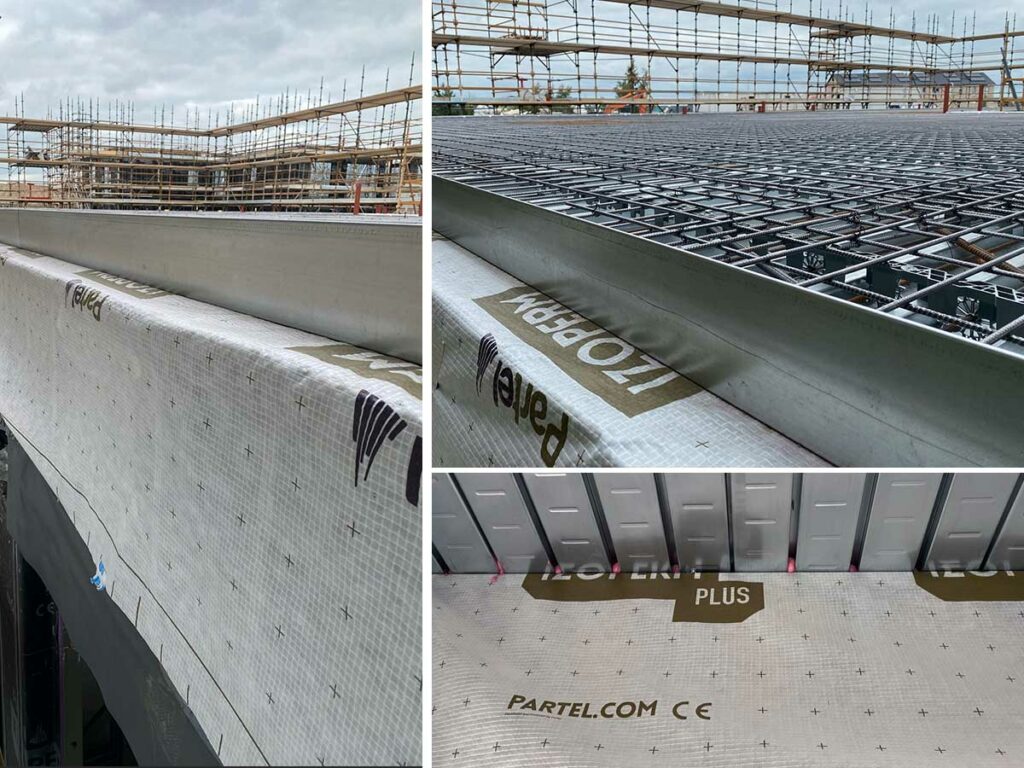 Once all services were installed the internal membranes were sealed at junctions and penetrations with phA Class airtight tape VARA SEAL, and the multi-purpose adhesive VERBOND was used in conjunction with VARA SEAL to seal around windows – ensuring the apartments were completely airtight and draught free.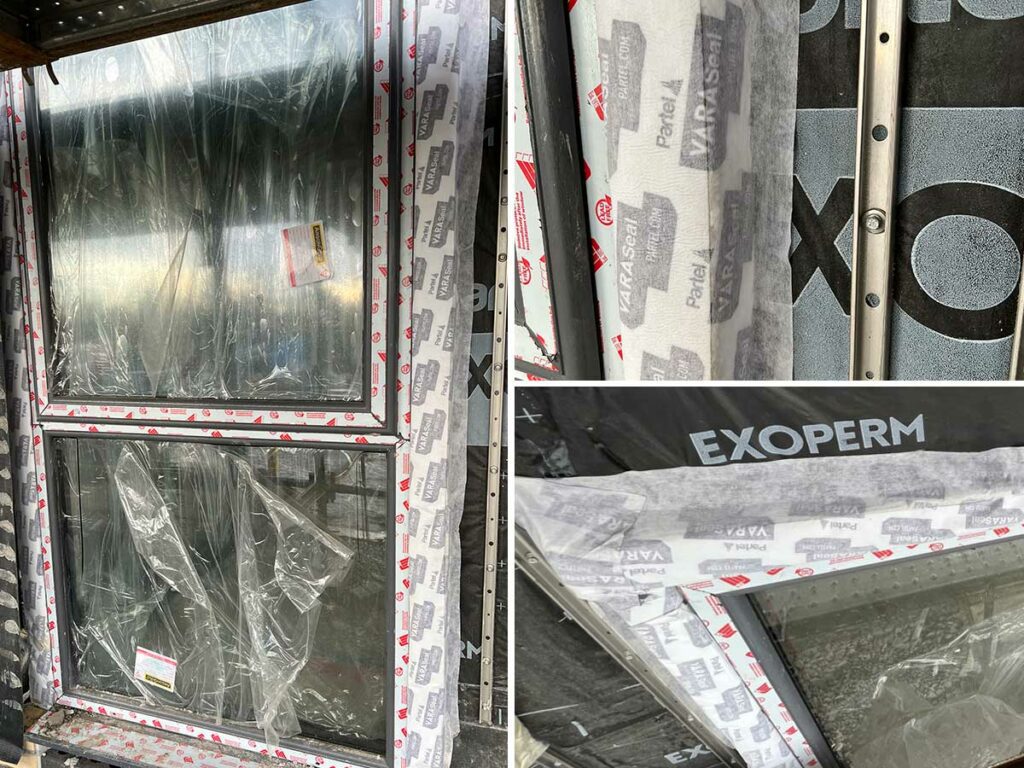 Partel's membranes and sealing tapes contribute significantly to the project's fire safety, airtightness, energy efficiency and weather protection, helping to deliver comfort, quality and a reduction in both energy consumption and carbon emissions.
Offsite Manufacturer: Horizon Offsite
Developer: Cairn Homes PLC
Project type: Light Gauge Steel Frame
Building: Residential Apartments
Completion: 2022