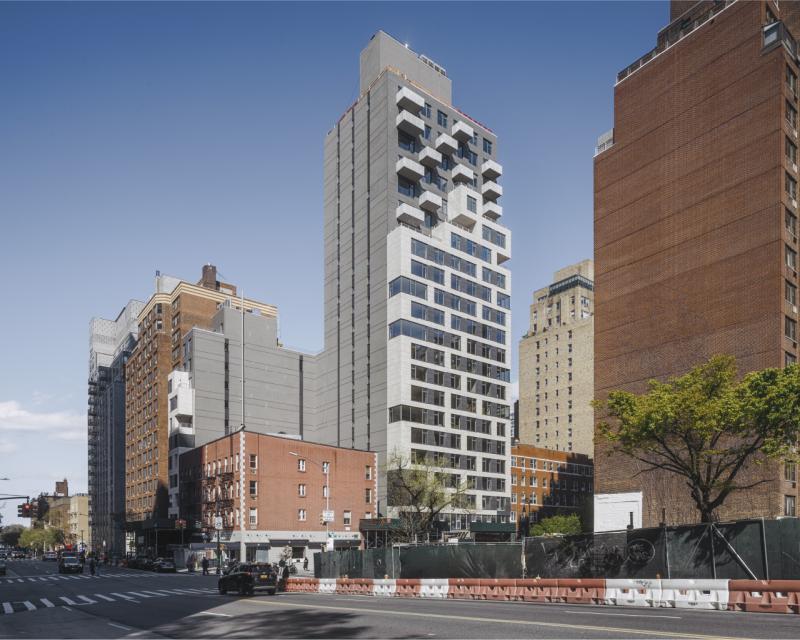 The Convivium, one of the developments to win one of New York's Buildings of Excellence Awards in 2019, is an ambitious Passive House project on the Upper East Side of Manhattan. The building utilizes the usual Passive House energy saving measures such as an airtight envelope construction, high efficiency variable refrigerant heating and cooling, condensing water heaters, and efficiency energy recovery.
Construction completed on this 23-story, 140,226-square-foot tower in 2020, and Partel consulted with the project team, offering technical support to improve the building's airtightness. One of the most integral components to the project was Partel's VARA FLUID, a smart liquid applied membrane, and a durable measure for moisture management within the building envelope.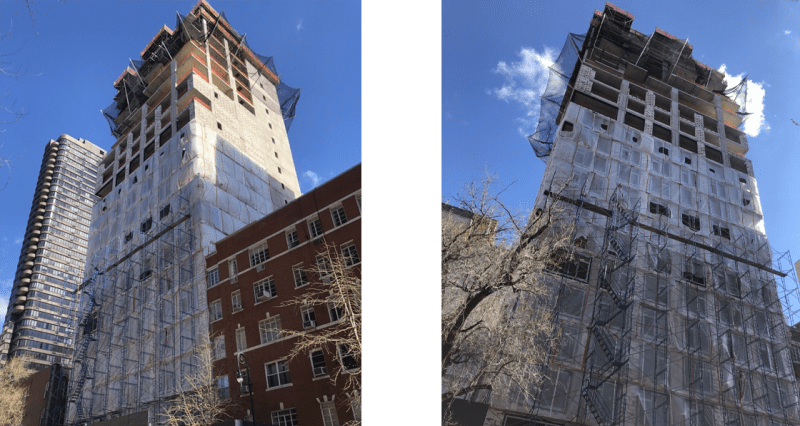 The Convivium at 515 East 86th Street during construction
The Challenge in Work
With the climate in New York, the builder, architect, and installer all needed to make sure this high-rise residential construction would stay safe and dry over the winter, all while achieving a seamless and superior airtightness. Speed and consistency of application was also important.
Moisture Management Measures
The party walls were built using aerated concrete block with an interior steel stud cavity and were insulated on the exterior with 4 inches of XPS.
As insulation was continuous ensuring a thermally broken construction the next challenge was achieving an airtight layer. The crew opted for a smart AVCL – Partel VARA FLUID – that could be quickly and efficiently applied to the inside face of masonry to control vapor movement, allowing potentially unwanted moisture trapped in the structure to escape. This prevents condensation and mold, as it blocks unwanted air infiltration.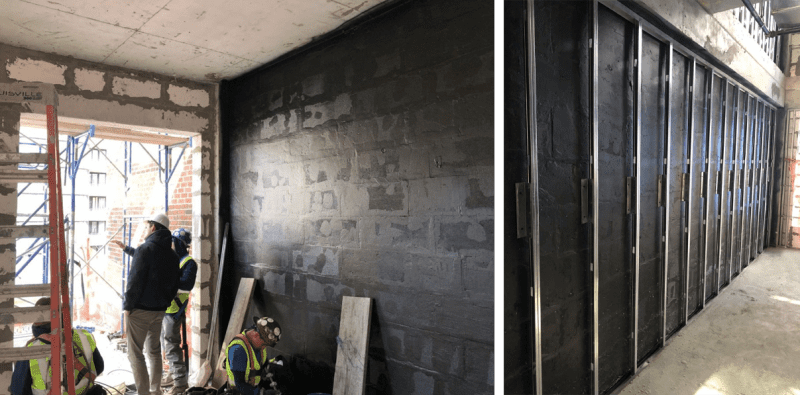 To achieve the best coverage, VARA FLUID was spray-applied in a minimum of two coats at 12-mm wet thickness. For details and irregularly shaped connections, the VARA FLUID Brush was applied to fill up cracks and construction joints. The fluid-applied solution accelerated the application process, making it ideal for high-rise projects and large surfaces.
VARA FLUID is a low-VOC, water-based building component using Variable Technology that meets the requirement of the ASTM E96, and dries to form an airtight flexible layer. Once the layer is dry, it results in a durable membrane that maintains the connections in the long-term.
The Partel airtight product system is underpinned by the 10-year warranty and a unique technical support, including WUFI condensation risk analysis, for guaranteed quality results.
Achievements
Partel VARA FLUID smart airtight system improved the energy efficiency of the building fabric, providing a permanent air and moisture barrier, while increasing occupant comfort and ensuring better indoor air quality.
Thanks to the environmentally conscious approach, the building uses approximately 80% less energy than similar residential buildings.
Project Awarded at NYSERDA's Buildings of Excellence Awards
PROJECT DETAILS
Location:511 E 86th Street, New York, NY 10028
Building Type: Affordable high-rise, Residential Development
Project Type: New build
Construction Type: Masonry
Airtight Product System: Partel VARA FLUID Spray & VARA FLUID Brush
Architect: Arquitectonica
Certification: Passive House (PHI)
Completion:2020
Gallery