Partel's newly launched FOAMSEAL Liquid B1 – fire retardant expanding foam – is an innovative and highly effective insulation and air sealant. It was developed as a solution for passive fire protection that combines eco-friendly propellants with high fire resistance to facilitate durable low-energy construction.
Joints and penetrations are potential weak points after fire breaks out in buildings. To achieve a fire rating for the entire building system, cavities, joints, and penetrations between the structure, doors, and window frames must be sealed with integrated and certified fire-resistant or stopping materials, especially in high-risk public buildings.
Partel FOAMSEAL Liquid Euroclass B1-s1,d0 Gun Foam is a moisture-curing, single-component polyurethane sealant designed to meet this performance and effectively block penetrations in the building structure while contributing to fire safety. It has proven fire resistance of up to 3 hours in specific configurations with outstanding thermal and acoustic insulation properties.
Tested for Fire Safety
Extensive fire-rated testing was performed on FOAMSEAL Liquid B1 in accordance with European Standard EN 13501-1: Fire classification of construction products and building elements and German Standard DIN 4102-1: Fire behaviour of building materials and elements. The product was installed in linear joint seals in rigid walls and floors during the testing process.
The product achieves an industry-leading Fire Class B1-s1, d0 fire rating under the EN 13501-1 standard, making it suitable for a range of project installations where fire safety is of utmost importance.
Fire Class B-s1, d0 means that a product has a limited ignition risk, provides minimum smoke production if provoked by a fire, and does not produce flaming droplets.
" We aimed to produce a standard fire sealant that is simple to use and highly effective. With excellent thermal insulation, FOAMSEAL Liquid B1 offers increased fire and smoke limiting properties without compromising processing performance or durability. It is a smarter alternative that has been tested, proven, and classed according to stringent European testing standards; for the installer and building professionals.", Hugh Whiriskey, Founder and Technical Director at Partel.
Thermal and Acoustic Fire-rated Insulation Solution
FOAMSEAL Liquid B1's high-yield composition creates up to 40 liters of cured, fire-resistant foam from every 750 ml can. This high-performance fire-resistant foam from Partel acts as an effective fire insulator and is resistant to aging and temperatures ranging from -40°C to +80°C; it can also withstand temperatures as high as 120°C for a short period.
In addition to fire resistance, the FOAMSEAL layer is frost and water-resistant, offering excellent protection against mold and mildew growth. Following the application of a solution, skin is formed in 8-10 minutes, trimmed in 30 minutes, and becomes resilient in 3 hours.
This product is reliable for its added advantages, including high bonding strength, excellent flow resistance, adhesion, dimensional stability, and durability.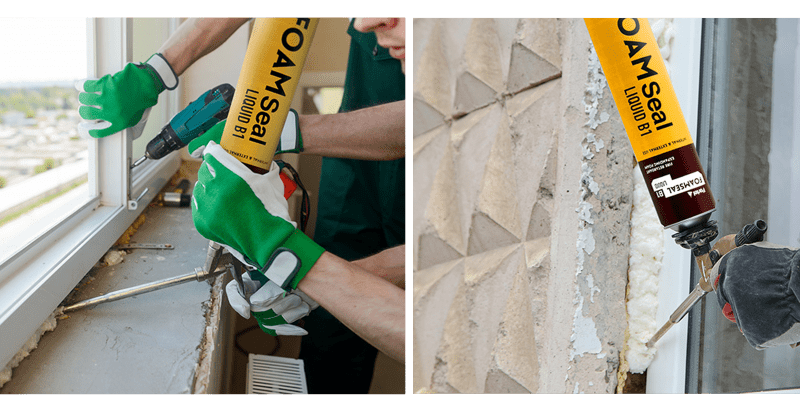 Excellent Adhesion on Various Building Substrates
FOAMSEAL Liquid B1's advanced technical properties ensure excellent adhesion to various substrates such as masonry, plaster, wood, concrete, aerated concrete, bricks, clinker, plasterboards, fiberboards, multiple plastics, corrosion-protected metals, styrofoam, ceramics, tiles, stone, and several other insulating materials.
This single-component foam is used to fill and seal small cracks and voids around windows, roof windows, attic conversion, doors, partition walls, precast walls, roller shutter boxes, air conditioning, and ventilation systems, joints in thermal insulation systems, pipelines, metal, and wooden structures.
EMICODE® EC 1PLUS Certified
Environmental toxins that release gases in indoor areas are a topic of increasing importance that has resulted in a rising demand for healthy, low-emission building materials.
FOAMSEAL Liquid B1 as EMICODE® EC 1PLUS; it is an accredited standard for healthy living building products and is a quality label in proof of very low VOC emissions. The product is specifically formulated to be eco-friendly and contains no CFCs, HCFCs, and HFCs.
This certification is a guarantee of quality and protection of health in indoor environments. Using low VOC materials in the design and renovation helps preserve indoor air quality and ensures adequate comfort for builders and occupants in terms of odors.
Given the critical nature of fire protection in buildings, fire-retardant foams assure that construction projects adhere to applicable fire safety standards and regulations. Our high-yield, fire-retardant, and thermally conductive air sealant, FOAMSEAL Liquid B1, is available in all markets: Ireland, the UK, and the USA.
For additional details, please visit the FOAMSEAL Liquid B1 product page.