Increased ventilation rates, along with optimised air quality, especially in public spaces such as schools, became even more important today to ensure that spaces are well-ventilated and equipped with an adequate heat recovery system.
Project Overview
School of Rock is the world's largest multi-location music school with over 300 schools in 15 different countries, that originated in America.  The new music school in Blackrock Village, Co. Dublin, consists of a retrofit project designed by KOTA Architecture, an architectural practice based in Ireland. Priority was given to transforming the old dwelling while preserving its original structure and shaping a creative and comfortable place for students. The building hosts a basement, ground floor, and first floor, all of which have undergone a complete refurbishment. Integrating a high-performance and efficient ventilation strategy, with a focus on sustainability, and less energy used was important to meet the project's brief.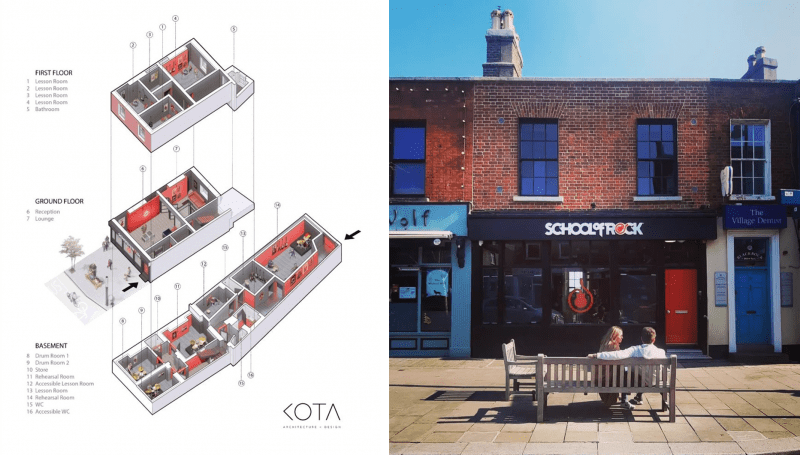 Ventilation Design Solution
Partel consulted and worked with KOTA Architects to develop an optimised ventilation design strategy for the existing building, providing technical support, and qualified service for installation and commissioning, facilitating the delivery of a complete decentralised ventilation system.
LUNOS e2 60s and Nexxt E are the two heat recovery ventilation systems that were specified to be implemented, considering the structural elements of the building, size spaces, required ventilation rate, fresh air volume flow, and finally, the strict efficiency target of the operation.
The decentralised systems are integrated into the outer walls in pairs. Usually, this means one to two devices per room. The LUNOS system is a versatile option, with each lesson room and area having its own ventilation unit. This enables individual rooms' ventilation efficiency to be adjusted without affecting the ventilation demands of adjacent classes.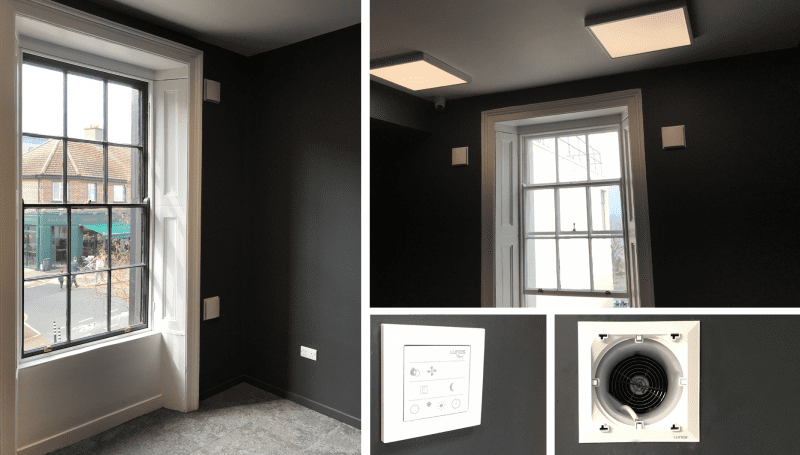 Both ventilation units, proposed after a thorough assessment, are extremely energy-efficient –  advanced ec technology incorporated, allows for very low power consumption. The Nexxt E unit achieves a heat recovery rate of up to 83%, and has a power consumption of 22W, while LUNOS e2 60 unit achieves a heat recovery rate of 96% and came with a power consumption of 0.4 – 3.3 W.
The Smart Comfort control allows an extremely easy operation. The different ventilation modes and humidity-temperature mode recommended for continuous operation can be set directly at the touch of a button, keeping the indoor climate at an optimum level.
Capable of transferring heat and humidity, the LUNOS units optimise air quality while preventing moisture build-up. It is needed not only to control internal moisture levels but also to get rid of pollutants and to maintain an indoor environment that is healthy for both the people and the fabric. Controlled ventilation supplies constant fresh air while minimising heat loss and increasing comfort levels.
A well-designed ventilation system will operate more efficiently, and have a greater chance of standing the test of time. Partel designed, supplied, and commissioned the MVHR system for the project. Our team of experts coordinates all services, providing continued support to the School of Rock for the maintenance and servicing of the installed units.
At the heart of all this lies understanding: 'Regardless of your reasons for retrofitting, the key to success is understanding. Understand your home, your lifestyle, your environment, your priorities, the upgrade measures available, the importance of careful planning and detailing, and the whole-house approach and joined-up process'. (A Bristolian's Guide to Solid Wall Insulation)
Project Details
Building Type: Retrofit
Location: Co. Dublin, Ireland
Architect: KOTA Architecture +Design
Builder: Linear Construction
Ventilation: 5 x LUNOS Nexxt units, 6 x LUNOS e2 60 units
Completion date: 2022