The current global housing market encounters a lack of supply and affordability. As the market is flooded with older and less net-zero energy or less economic houses, tenants and homeowners are constrained by the purchase price and the affordability to run such properties.
According to EU data, buildings are responsible for approximately 40% of all energy consumption and approximately 36% of CO2 emissions in the EU. Over 1 million houses in Ireland have a BER rating of below a C and 98% of home heating is sourced by fossil fuels. It is estimated that approximately 35% of the EU's buildings are over 50 years old.


As building guidelines and standards have significantly progressed over time, for the better long period operation of the building and a healthier built environment, it is important to remember that these older buildings may also need a solution to allow them to meet the current guidelines and future proof these homes for the housing market.
With the above details in mind and the recent energy price raise, it only highlights our need for a holistic solution to enhance older properties and pull them into the 21st century, with guaranteed energy and (indoor) quality performance.
What is Energiesprong?
Energiesprong is a form of deep home retrofit which focuses on the main components of a house such as wall and roof insulation, window, air quality, and smart heat recovery. Previously the options to enhance your home was to address all these issues at the same time or to create a plan to tackle each issue individually. With Energiesprong, all these problems can be tackled at one time and the main goal is to increase the home's energy efficiency and occupant's comfort.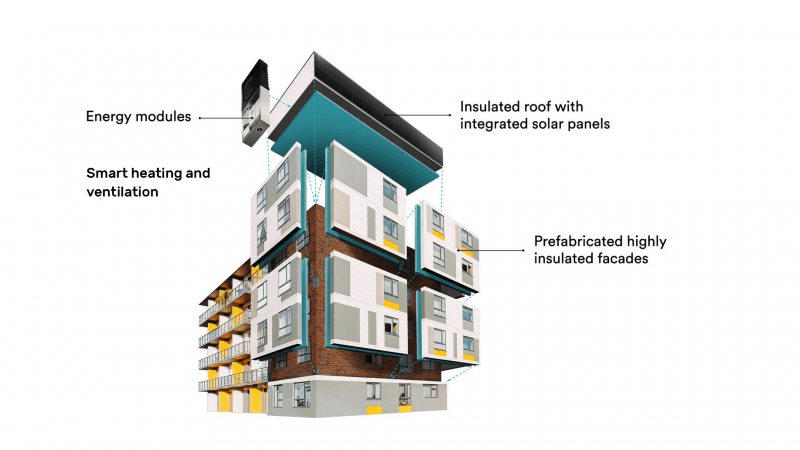 Energiesprong transforms an existing house through a whole-house approach to a net-zero energy house. Through Energiesprong retrofit, a home can generate the total amount of energy that is required for heating, hot water, lights, and all electrical appliances resulting in a warmer and more comfortable home. This is achieved by implementing prefabricated external facades, insulated roofs with solar panels for energy reserves, modern home heating, and installation of smart ventilation and cooling systems.
The entire project can be completed in less than 10 days allowing the occupant to stay home during renovations without the need to move out.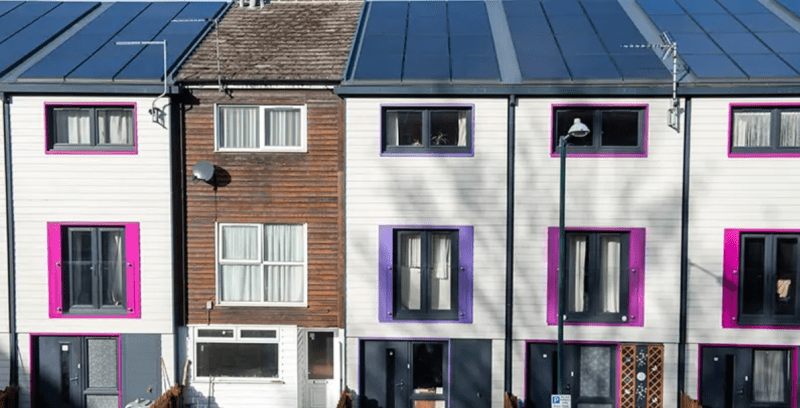 Money that would have been spent on energy bills and home maintenance, is then invested to fund the retrofit works. In the Netherlands, where Energiesprong originated, the fees are based on previous energy bills of the occupant, which are then paid towards the loan of the refurbishment. Energiesprong does not carry out or finance any of the renovation work itself. They aim to coordinate housing associations, county councils, and building contractors to work together. Regulations play a key role in the success of this setup.
Energiesprong is working on creating an EU regulation standard that can be used to assure the cost of living does not increase, as they hope the standard can guarantee both indoor comfort and energy efficiency for up to 40 years. They are looking to stimulate the market enough to encourage a steady flow of large-scale retrofits while making them as profitable as possible for the construction sector to remain interested, but also feasible enough to meet the repayment needs of the occupant. By setting these standards, contractors can have the freedom to decide how to meet them. There is no need for Energiesprong to micro-manage the project. The Contractors can figure out how best to meet the goals of a net-zero home in the most affordable and quickest route possible.
Energiesprong is available to both the social and private housing market, allowing everyone to future-proof their house to achieve net-zero energy. Today over 5500 net-zero homes are completed in the Netherlands, with a further 14000 planned. Energiesprong is active in Canada, New York, the UK, France, Germany, and most recently in Italy.
To meet the climate change targets set out by the government by 2050, we encourage to utilize solutions such as Energiesprong, to retrofit homes with these energy-efficient measures and tackle home energy consumption, and reduce carbon emissions.
Transforming the linear built environment into a circular built environment offers significant opportunities for the sector to lower its material and emissions footprint. The smart selection of sustainable materials for components and structures with minimized life cycle impact is decisive in preventing thermal bridging, improving airtightness, and indoor ventilation.
As the housing crisis continues, Energiesprong is a viable option to future-proof older houses, accelerating the adoption of low-carbon embodied materials and ensuring more people have comfortable homes to live in.
References