A recent residential retrofit, designed by Fabrica Architects, maximises scenic views of Dublin bay while improving energy performance and indoor air quality thanks to the specification of LUNOS ventilation systems supplied by Partel.
This attractive retrofit of a 1960s semi-detached house in Blackrock, Co. Dublin, is all about achieving an equal balance between quality design, healthy indoor air, and thermal performance.
In the case of keeping the modern house with no allowances in design to run ductwork, and also energy-efficient, an intelligent ventilation concept was an important goal from the very beginning.
LUNOS e² demand-controlled heat recovery system – supplied by Partel – was chosen because it is a ductless, self-contained system, mitigating the need to do extensive modifications to install ductwork, particularly given the steelwork required for the extension, incurring a saving in terms of both space and cost.
The house is equipped with power-efficient e² fans that make use of the principle of regenerative heat exchange. Flow-optimised motors and a low-noise fan unit in a sound-insulated chassis ensure quiet operation. Concealed behind a white cover, the fans blend discreetly and appropriately into the design of the house.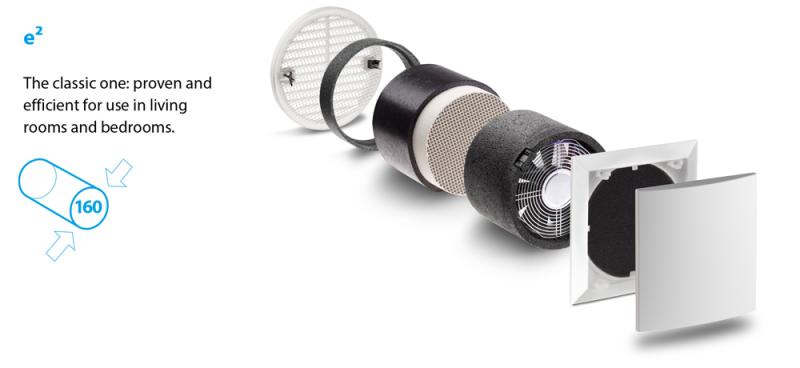 Among other benefits, LUNOS offers many possibilities for smart control and networking that can also be implemented retrospectively.
"It is simple to operate. You choose the temperature you want at each room thermostat and the machine does the rest," says Ruth Jenkinson, Homeowner.
The integrated control system ensures optimal operation fully automatically and always ventilates as little as possible but as much as necessary to prevent unwanted odours and moisture problems.
This e² heat recovery system with automated humidity control enhanced the indoor air quality, providing optimal comfort and constant fresh air for living spaces.
The homeowner is happy that the final result has achieved that vital balance between energy performance and design that completely fulfils the brief, resulting in an A3 building energy rating (BER).
PROJECT DETAILS
Building: Deep retrofit & extension
Architect: Fabrica Architects
Decentralised MVHR systems: Partel
Standard: A3
Read the full case study in Passive House Plus, digital issue.