The detached two-storey Barna House was in need of a revamp, and the owner decided to take this as an opportunity to retrofit their house to passive house standards. The owner's goal was to build a home offering a super-efficient energy performance and superior thermal comfort while preserving the structure's historic character.
Super-insulation, thermal-bridge-free construction, an airtight building envelope, and mechanical ventilation with energy recovery, were central to the project's strategy to reach Passive House levels of performance. Helena McElmeel Architects oversaw the property's architectural design.
A rigorously planned and executed envelope is vital for all Passive House projects. Of particular importance is the air barrier.
The Barna passive house project used Partel's IZOPERM PLUS phA certified airtight product system – vapour control membrane together with the CONEXO MULTISEAL, an Emicode-tested tape and bears the EC1PLUS mark, provides superior ageing resistance and significantly improve energy-efficiency in any type of buildings.
Partel IZOPERM PLUS Airtightness & Vapour control membrane was lapped and taped behind internal render at eaves, 150 mm void fully filled with insulation (0.034 W/mK) 12.5 mm and skim coat finish U Value: 0.081 W/m2K.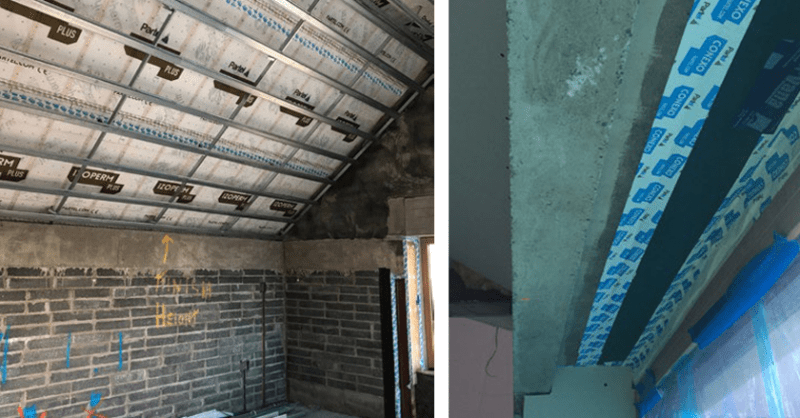 This played a crucial role in the success of the project as this layer became the air barrier, responsible for controlling air leakage.  The airtightness results were 0.6 ACH at 50 Pa, an ambitious target that the Passive House Institute (PHI) requires for new building Passive House certification.
Alma- T by Partel, an award-winning complete threshold unit compliant with part A, L, and M was used for a thermally broken door threshold, providing additional insulation at the bottom of doors by preventing the transfer of heat and cool air. It played a vital role in lowering heating and cooling cost, thus creating a more environmentally friendly and insulated environment and saving owner's utility bills.
Thermal Bridging: Y-value 0.01 W/mk (passive house calculation method/boundary condition)
The house achieves an A1 BER (building energy rating) Rating of (23.11 kWh/m2/yr). The project EPC (Energy Performance Coefficient) and CPC (Carbon Performance Coefficient) of 0.154 & 0.145 respectively, easily surpassing the incoming nZEB Maximum requirements of 0.3 MPEPC and 0.35 MPCPC.
The project turned into a comprehensive energy retrofit, with thorough airtightness and insulation, new space conditioning and energy-recovery-ventilation, triple glazed windows, and an interior of incredible elegance. The occupants indicated that they were highly satisfied with comfort levels in the house. They were also satisfied with the perceived effect on their health, and the building design overall.
Read more about this passive house project in Passive House Digital magazine and see how Partel's phA airtight system and thermal bridging solution contributed to achieving the A1 building energy rating (BER).
Project Details:
Building: Single-Family house; Detached two-storey 246 m2 cavity wall house
Location: Barna, Galway
Completion date: November 2019
Architect: Helena McElmeel Architects
Builder: Greentec
Airtightness System and Thermal Bridging: Partel
BER: A1 (23.11 kWh/tm2/yr)